Age Of Mythology y la expansion: Titans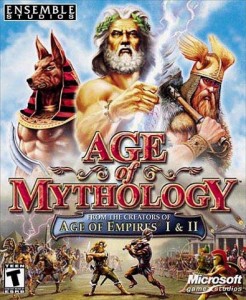 Age of Mythology transporta a los jugadores a un tiempo en el que los héroes luchaban con monstruos legendarios y los dioses intervenían en los asuntos de los mortales.
En Age of Mythology, los jugadores hacen la guerra utilizando ejércitos y diplomacia, van avanzando a través de las distintas épocas, mejoran el funcionamiento de la economía y el ejército a través del comercio y la acumulación de recursos. La mitología entra en el escenario cuando los jugadores invocan a los dioses para que se pongan de su lado o refuerzan sus ejércitos con más de 20 criaturas mitológicas,
Requisitos del PC
Microsoft® Windows® 98/Me/XP/2000/vista
Un PC con un procesador equivalente a 450 o superior
128 MB de memoria RAM de sistema
1.5 GB de espacio libre disponible en el disco duro
Un lector de CD-ROM de 32x de velocidad como mínimo
Se necesita una tarjeta de video de 16 MB
Para el audio se necesita una tarjeta de sonido, unos altavoces o unos cascos
Microsoft Mouse o un dispositivo señalador compatible
Un módem de 56.6 o superior para jugar online
Ahyq ue tener Winrara ok?, descargen de rapidshare y unan las partes, el rar lo hace por si solo , para quienes no saben descargan las partes, las seleccionan todas luego con el boton Izquieredo escogen Extraer aqui y listo
AGE OF MYTHOLOGY: THE TITANS EXPANCION
La expansión de Age of Mythology: The Titans añade una cuarta mitología, los habitantes de Atlantis a las ya existentes de los griegos, egipcios y nórdicos. Con la nueva campaña de jugador individual se añade un capítulo al folclore cada vez mayor de esta saga. También se añaden escenarios nuevos. Los jugadores de Atlantis podrán pedir ayuda a los poderosos dioses Titanes (como por ejemplo Atlas y Cronos) en varias ocasiones a lo largo del juego e incluso podrán convertir las unidades humanas en héroes. En el pack de expansión de presentan 12 poderes nuevos para los dioses, 15 unidades humanas nuevas y 10 unidades mitológicas imponentes.