Battlefield 1942 Secret Weapons of WWII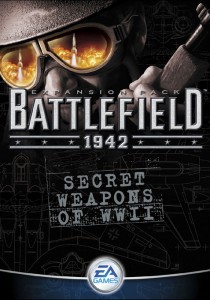 Sinopsis:
Battlefield 1942â?¢: Secret Weapons of WWII, el segundo pack de expansión del altamente aclamado Battlefield 1942, mejora significativamente la experiencia de juego trayendo al campo de batalla las más extrañas y mortales armas de los laboratorios Alemanes y Aliados. Punteras armas alto secreto, fuerzas secretas, y lugares secretos, añadirán tensión y emoción a la experiencia de combate.
Nuevos mapas
Ocho nuevos campos de batalla que llevan a los jugadores al combate en lugares altamente secretos en una variedad de estaciones y horarios.
Nuevos vehículos
16 nuevos vehículos, siete de ellos prototipos que pudieron cambiar la historia.
Nuevas armas
Cuatro nuevas armas incluyendo un cuchillo que mata de un golpe del que disponen todos los soldados Aliados y del Eje.
Tropas de élite
Presentación del Comando Británico y las Tropas de Ã?lite Alemanas.
Tecnología secreta
Mochila-Cohete prototipo alemana que permite a los jugadores volar y luchar a la vez.
Destruye a distancia
Los Cohetes Wasserfall serán lanzados, volados y dirigidos por el jugador en primera persona.
Spawn móvil
El avión de carga C-47 servirá como un punto de salida móvil.
Completa tu misión
Nuevo modo de juego basado en objetivos.
Requerimientos:
SO: ME/XP/2000/2003
800 MHz CPU
256 Megabytes of RAM
3D accelerated 32 MB video card