Enter The Matrix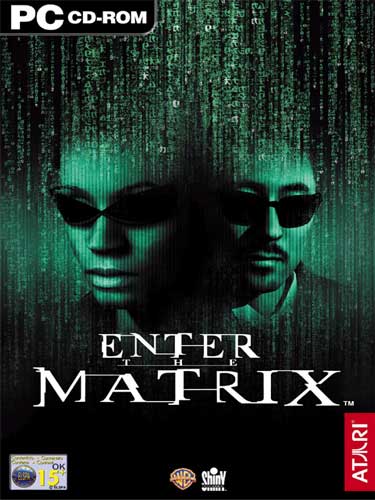 Enter The Matrix es el primer videojuego basado en The Matrix serie de películas. Ha sido desarrollado por Shiny Entertainment y publicado por Atari y el Banco Mundial Interactivo de la PlayStation 2, Xbox y los sistemas de juego de Nintendo GameCube, y para el PC. Se informó de costo más de $ 30 millones para crear, uno de los juegos cada vez más caro desarrollar. Vendió un millón de copias en sus primeros dieciocho días de la liberación, 2,5 millones a lo largo de las primeras seis semanas, y finalmente 5 millones de copias.Enter The Matrix se produjo simultáneamente con la de The Matrix Reloaded y The Matrix Revolutions películas.
Descripción general
Primer puesto en libertad el 15 de mayo de 2003, el mismo día que The Matrix Reloaded la liberación de América del Norte, Enter The Matrix da a los jugadores el control de dos de los personajes secundarios en esa película, Ghost y Niobe, los miembros del mismo grupo de rebeldes como Morpheus, Trinity, y Neo. Niobe es el capitán del Logos, el barco más rápido en la flota rebelde. Espíritu es el primer oficial del buque y de las armas gurú, y es un profundo pensamiento filosófico asesino. El juego tiene lugar en aproximadamente el mismo tiempo que los acontecimientos de The Matrix Reloaded, un personaje puede salir de una escena en la película, sólo para caminar en una escena en el juego. Al igual que las películas, el juego presenta las artes marciales, disparos, conducción, y en tiempo bala. También incluye un â??sistema deâ? hacking â??, que simula la capacidad de entrar en la matriz por medio de una simplificación de la imitación de DOS, explorar y desbloquear secretos, armas, mapas, y habilidades.
Conexiones con las películas
Sistema operativo: Windows 98Se/Me/2000/XP o
Procesador: 800 MHz
Memoria: 128 MB de memoria RAM
Espacio en el disco duro: 4,3 GB de espacio libre en el disco duro
Unidad CD-ROM: Velocidad 36x
Sonido: Tarjeta de sonido* compatible con Windows
DirectX: DirectX versión 9 (incluida) o superior
trucos
Entra en el sistema de hacking en el juego e introduce el comando Cheat. A continuación introduce alguno de los siguientes códigos:
– 0034AFFF: Potencia del disparo al máximo.
– 1DDF2556: Munición ilimitada.
– 69E5D9E4: Foco ilimitado.
– FFF0020A: Recuperación rápida del foco.
– 7F4DF451: Vida infinita.
– 13D2C77F: Bonus test level.
– 13D2C77F: Sparks construct en el modo de entreno.
– 4516DF45: Los enemigos no te pueden escuchar.
– FFFFFFF1: Los enemigos no te pueden ver.
– FF00001A: Modo Turbo.
– D5C55D1E: Lucha Multi player.
– BB013FFF: Baja gravedad.
– 7867F443: Logos más rápidos.
– 312MF451: Conducir un taxi.
Conseguir a Neo:
F2222546
Conseguir a Trinity:
00F58256
Conseguir a Morpheus:
02568974
si tienen algun truco bueno me lo pueden dar con gusto lo agrego