Need For Speed The Run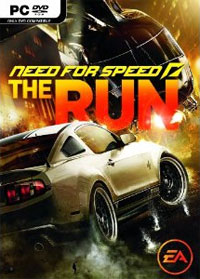 SINOPSIS:
Jack es un hombre marcado. Pero ha encontrado la forma de salvar su vida. Lo que necesita es ganar una carrera ilegal, de costa a costa, desde San Francisco a Nueva York.
Se llama The Run. Tres mil millas de implacable asfalto entre San Francisco y Nueva York. Sin límites de velocidad. Sin reglas. Sin aliados. Armado sólo con su coraje y su instinto. Jack competirá con los pilotos más famosos que se hayan reunido nunca. Ciudades con calles abarrotadas, pasos por montañas heladas y sinuosos cañones llevarán sus habilidades al volante al límite. Perseguido implacablemente por la policía, así como por el hombre que le quiere muerto, Jack está corriendo para salvar su vida.
Requisitos Mínimos:
OS: Windows Vista SP2 32-bit
DirectX: DirectX 10
Procesador: 2.4 GHz Intel Core 2 Duo o AMD Equivalente
Memoria: 3 GB
Disco Duro: 18 GB
Tarjeta Gráfica (AMD): 512 MB RAM ATI Radeon 4870 o superior
Tarjeta Gráfica (NVIDIA): 512 MB RAM NVIDIA GeForce 9800 GT o superior
Audio: DirectX Compatible
Teclado, Mando o Volante
DVD Rom Drive
Online: 512 KBPS o superior
Requisitos recomendados
OS: Windows 7 SP1 64-bit
DirectX: DirectX 11
Procesador: 3.0 Mhz Intel Core 2 Quad o AMD Equivalente
Memoria: 4 GB
Disco Duro: 18 GB
Tarjeta Gráfica (AMD): 1024 MB RAM ATI Radeon 6950
Tarjeta Gráfica (NVIDIA): 1024 MB RAM NVIDIA GeForce GTX560
Sonido: DirectX Compatible
Teclado, Mando o Volante
Lector DVD Rom
Online: 512 KBPS o superior